VCP7-CMA – Objective 3.4
Disclaimer: These are my notes from taking the 2V0-731 exam. If something doesn't make sense, please feel free to reach out.
The goal of this objective is to understand basic troubleshooting.
Objective 3.4 – Troubleshoot Common vRealize Automation Installation & Configuration Errors
Perform a rollback installation on a minimal or enterprise deployment

Revert to pre-installation snapshots if available

Generate a vRealize Automation support bundle
Validate DNS configuration settings
Confirm time synchronisation
Confirm machine certificates
Validate credentials used to configure endpoints
References
Rollback installation at a high level:
Uninstall any components from add/remove programs on the IaaS server
Revert database to pre-installation state
Remove HTTPS binding from website
Check that these sites and app pools have gone:
Alternatively, you should be able to revert to the snapshots you took during the installation, you are prompted to take them 🙂
Support bundle is generated from the vRA appliance management interface, from Admin, Logs. There is a 'Save Log Files' button. This is jus the logs for the appliance you are logged into.

For the cluster logs – vRA Settings, Cluster, 'Create Support Bundle' button.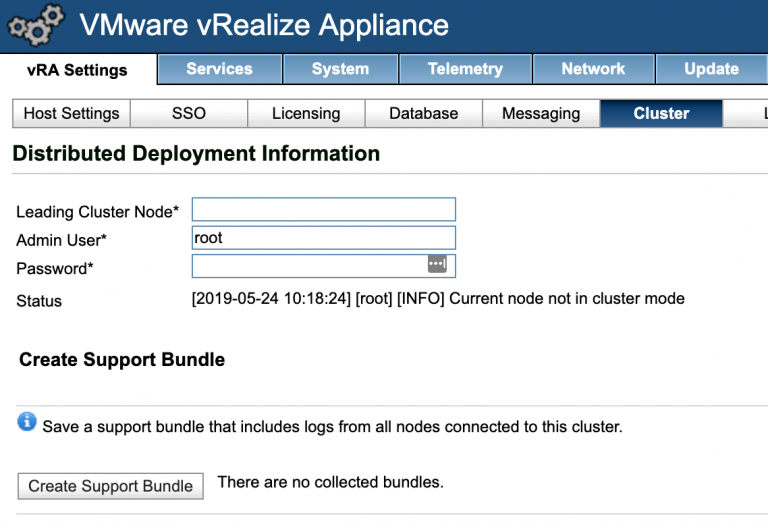 I believe the time piece this is referring to is on the same page. You have a list of hosts and the time offset between them. Once you hit an offset of 600 seconds or more you'll start running into problems. In reality if NTP is working they shouldn't be more than 5-7 seconds apart.